TRG-21 Aries is a sniper rifle variant of TRG-21 and is one of the weapons in the Zodiac Weapon Series.
Overview
Continued to keeping old design style of Zodiac Set, this weapon features a full black color background with the Aries logo on its keychain. Comes with 15 rounds magazine (+5) and enhanced firepower.
Availability
CF China
CF Brazil
CF North America
CF Russia
CF Vietnam
CF Japan
CF Europe
CF Español
CF Korea
Gallery
Trivia
Ironically enough, CFVN description claims this gun has some reference with god of war in Ancient Greece, Ares, even though Aries and Ares are two different names
Videos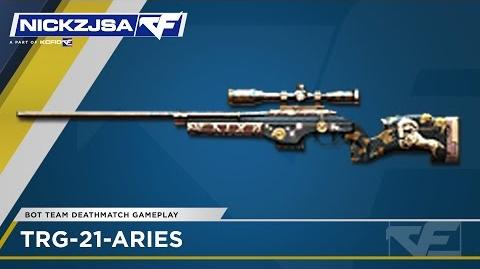 Ad blocker interference detected!
Wikia is a free-to-use site that makes money from advertising. We have a modified experience for viewers using ad blockers

Wikia is not accessible if you've made further modifications. Remove the custom ad blocker rule(s) and the page will load as expected.