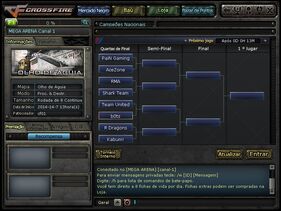 Tournament system is a mode where players can participate and create their own tournaments and bet items. At the end of the tournament the winning team receives the rewards determined by Sponsor.
Availability
CF China
CF Philippines
CF Vietnam
CF Brazil
CF Russia
CF Europe
CF Indonesia
CF North America
CF Europe
Settings
Players can choose between 3 types of Tournaments: Normal, Advanced and Premium, each allow 2, 4 or 8 teams to compete. Licenses for each Tournament types are available as GP Item and players can own all 3 of them at the same time. Auto Tournament has its own channel within each server/channels, accessible by the Tournament button on top right corner. Players can check the Tournament's status (Recruit, Starting or Finished) as well as joining any room to apply for the teams they want (Provided that team is not full yet).
Hosting Tournaments
Players can use the Tournament License to host their own Tournament - there is a limit of how many Auto Tournament can be hosted every day. First, players get to enter their Tournament Name and description, then select a S&D map. Options to add Password and Observation seat is also available. Next, the Time Table menu allows players to set up their Tournament to be One Time or Daily, as well as specify when it starts at the next 7 days.
Next, players can setup prizes for 1st and 2nd team, up to 4 items. Only cash items can be used and players must buy them in Item Shop - the price will be x5 so 5 items will be given to the winning teams. After making the choice, players will review their options one last time before setting up their Tournament.
If the prizes are not yet used, they will be stored in players' Storage, under "Tournament Item" tab. Should players decide to not use these items as prize anymore, they can obtain it for themselves by clicking Receive Item here.
Trivia
You can only host up to 10 tournaments at a time.
A bug occurs in CF NA where sometimes starting a tournament match may freeze the room and all players within.
It's possible to exploit tournament system prize to buy large amount of Cash Item and stored for later use. This is especially useful if an item is sold for a limited time only but does not allow renew - you can buy tons of them and store in the Tournament Storage, then just claim 'em for yourself once the old one expire.
Videos
Ad blocker interference detected!
Wikia is a free-to-use site that makes money from advertising. We have a modified experience for viewers using ad blockers

Wikia is not accessible if you've made further modifications. Remove the custom ad blocker rule(s) and the page will load as expected.