Weapon Customization is a VVIP perks of M4A1-S Prism Beast featured in CrossFire.
Overview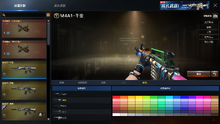 Weapon Customization (or Thousand Transform) is a perk and a part of the VVIP System which allow players to design their weapons by changing color of some gun parts (usually 4). There will be a color pack given which is already available when buying M4A1-S Prism Beast. You can save your design permanently or change it at any time you want.
VVIP Victor Class Weapons
Initially, Weapon Customization was exclusive only in M4A1-S Prism Beast. In recent updates, some VVIP weapons in Victor class can also be color-customized; however, players will have to buy two different color packs with limited color less than M4A1-S Prism Beast's. Players can customize the weapons if they want to.
Up to now, there are 5 VVIP weapons in Victor class having added Weapon Customization perk. There are 4 gun parts which can customize based on different weapons:
AK47-Beast: Head, body, dust cover and magazine.
Barrett M82A1-Born Beast: Head, body, breathing slot and and scope rings.
Desert Eagle-Born Beast: Head, body, handle and back-up knife.
M4A1-S Transformers: Head, body, handle and butt-stock. (similar to M4A1-S Prism Beast)
Gallery