Weapon Customization is a part of VVIP System featured in CrossFire.
Overview
In this system, you can change the look of the your VVIP weapons either partial or completely.
Color Customization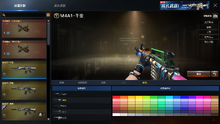 Color Customization (or Thousand Transform) is a perk of M4A1-S Prism Beast and a part of the VVIP System which allow players to design their weapons by changing color of some gun parts (usually 4). There will be a color pack given which is already available when buying M4A1-S Prism Beast. You can save your design permanently or change it at any time you want.
Victor Class VVIP Weapons
Initially, Weapon Customization was exclusive only in M4A1-S Prism Beast. In recent updates, some VVIP weapons in Victor class can also be color-customized; however, players will have to buy two different color packs with limited color less than M4A1-S Prism Beast's. Players can customize the weapons if they want to.
Up to now, these are VVIP weapons in Victor class which can be color-customized. There are 4 gun parts which can customize based on different weapons:
AK47-Beast: Head, body, dust cover and magazine.
Barrett M82A1-Born Beast: Head, body, breathing slot and and scope rings.
Desert Eagle-Born Beast: Head, body, handle and back-up knife.
M4A1-S Transformers: Head, body, handle and butt-stock. (similar to M4A1-S Prism Beast)
The features is currently available in these versions:
CF China
CF Vietnam
CF Russia
CF Brazil
CF Europe
CF North America
CF Philippines
Alternate Skin
Like its name suggested, you can replace your VVIP weapons' default skin with a new one. Basically, it simply changes the look of the weapons, but still retains all perks featured in the weapons.
These are the weapon skins which can be applied to VVIP weapons. Weapons appplying specific skins are included in their respective pages.
The features is currently available in these versions:
Trivia
Whether color-customized or skin-attached, they only change the in-game HUD in both first-person and third-person view. They don't change the weapon's killmark, Item Icon, Bag Icon or the HUD Icon; however, weapon skins features specific skin icons on the top left of the weapon slot and in the Bag Icon, and weapon's name in the HUD Icon get changed also.
Gallery