Wide Grenade-Gold Phoenix is a throwable weapon variant of Wide Grenade.
Overview
This is another variant of the Wide grenade but with Gold Phoenix skin. Has a 10% damage boost over the normal Grenade plus a small smoke upon exploding, partially helps covering the scene for its user to run away or move between cover.
Availability
CF China
CF Indonesia
CF Japan
Gallery
Videos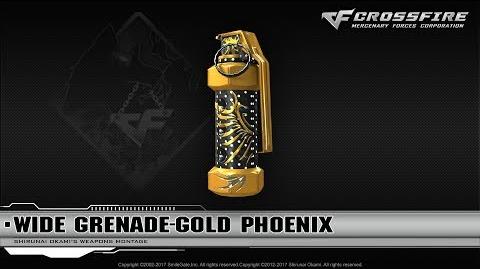 Ad blocker interference detected!
Wikia is a free-to-use site that makes money from advertising. We have a modified experience for viewers using ad blockers

Wikia is not accessible if you've made further modifications. Remove the custom ad blocker rule(s) and the page will load as expected.